Practical Info Costa Rica
Weather/When to go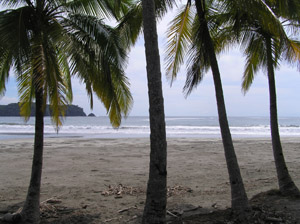 The best time to visit Costa Rica is november/may. Temperatures vary between 20°C and 35°C. Expect lower temperatures at higher altitude in the mountains. Warm clotes can stay at home, rain clotes are still recommanded for the sometimes heavy rain. The central valey which is about 1000m above sealevel is quite convient at sea level it can be hot with high humidity.

Costa Rica has two major regions, the Pacific and Caribbean side. The weather systems are seperated by the mountains. The Pacific side is more stable. Rainy season usually starts in March or April, with the heaviest rain in October. Be aware of landslides and impassable rivers uring this period. Even in the rainy season, called the green seasons by the Costa Ricans, the daily rains last for an hour or two in the afternoon. This can be quite refreshing as it tends to cool off the country more hotter regions; the rest of the year is sunny and bright. Late November through January - At the height of high season, you will get blue skies with virtually no rain in sight.
Travel documents / Money
No visa was needed for EU visitors. For details see: Visa information -> Embassy Costa Rica in The Netherlands
The local currency is Colones but Dollar is widely accepted. Don't use or accept $100 bills since there are allot of false biljets around in South America. Costa Rica is equiped with ATMs in the bigger towns. Creditcard is nice as backup but cash is mainstream. In smaller towns its better to have bill smaller than 5000 colones and some coins. Take care with your values in Costa Rica. It a good idea to have a backup wallet with some cash and important copies of passport, visa, telephone numbers.


Transport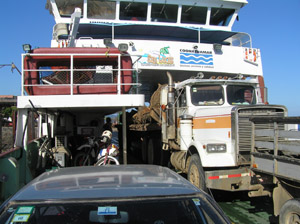 Aircraft: Amsterdam - Miami - San Jose
Carrier: Martin Air
Regulations for bike: 20kg normal luggage + normally 80 euro for the bike per one way. But we did not have to pay for the way back (due to "2 piece concept"). On San Jose "Juan Santamarķa" Airport we couldn't buy a bicycle box. We stored the Bike boxes at the parking place for free. We the luggage arrived the bike boxes where opened by the US customs but the bikes where oke. For interconnection between the Airport and Alajuela offical taxi busses are running for about 4 dollar which is recommanded duriing night times. During day time these 3km is most convient by bike. We use the ferry between Nicoya Peninsula and Puntarenas (±2 euro one way).

Wild camping in Costa Rica
Some tips:
Camp in cattle fields
Camp on the beach (mind the tide)
Expect that people will find you and carry some postcards from home as an gift
Camp at least a few kilometer from a village if you don't want to become an tourist attraction for the local people
Be aware of the snakes keep tent door closed while you are away from the tent
Water purifier was not really needed. The distance between villages is small, and every where you can buy purrified water.
Pitch your tent just before sunset (±17:30)
Leave no garbage only foot prints
Road conditions
Costa Rica is a right driving country. The cars and big MACK trucks horn to warn you. If you respect the big MACK trucks you don't have problems, the Costa Ricans drive quite respectfully. Often the speed is reduced by the low quality of the road (potholes). Potholes can pop-up every where also on bridges! The Panamerican highway should be avoided and the road between the Seaport Puerto Caldera an San Jose, which attracts allot of big MACK trucks and other traffic.


Maps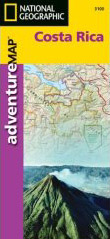 Maps are difficult to obtain in Costa Rica. If you compare maps the show different interpretations of the road system. Therefore its handy to have several maps. The best maps can be bought at home. The GPS map was nice as reference. But all four are not consistent.
Costa Rica by International Travel Maps Canada 1:330 000 ISBN 155341178-1
Costa Rica by National geographic Travel Maps 1:350.000 ISBN 749717031005
GPS map= Garmin Mapsource Worldmap
GPS map= Garmin Caribbean Map visit the RWSmaps project in Sweden
Food / Supplies
Almost every village has a small shop with bread, water, canned vegies and pasta.
Freeze dried/dehydrated camping food is not widely available. But instant soup you can find in most supermarkets. Restaurants serve meals from 2500 colones and up.