Route Info South-Africa Trip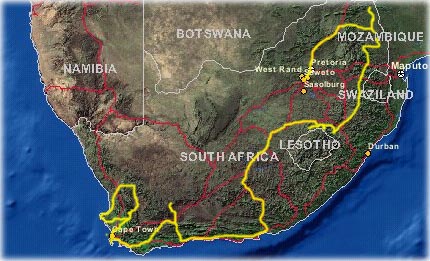 STATISTICS:

Days: 23
Distance: 6034 km / 3750 mile
Average=301 Km/Day
Yoghurt: 55 litre
Water: Overflow (piss converters)


Places we visited:
During our trip we visited several National Parks.
Johannesburg
Flight for Amsterdam (The Netherlands) to JHB via Paris. Because of the crime we directly left JHB after collecting the rent a car. I'am not used to drive on the left side of the road so the first hour was difficult.
Pretoria Hedfield Protea Hotel
Hedfield is the student area of Pretoria, nice to get common to the south african "climate" and temperature.
Tzaneen Campsite
Thea plantages, Black market
Kruger N.P., Bush Camp Letaba
Impala, Hyena, African Elephants, Buffalo
Kruger N.P., Bush Camp Shingwedzi
Hyena, Impala, Buffalo, Waterbuck, Zebra, badding African Elephants, Phyton, Nile Crocodile
Kruger N.P., Bush Camp Satara
Zebra, Impala, Cheetah, Wild Cat, Buffalo, Giraffe
Blyde River Canyon, Resort Ace Ventura Campsite
Fantastic overview on the canyon
Blyde River Canyon Pilgrims Rest, campsite
Gold digger museum, digger cemetery,
Sabie water falls, where we met a lonely cyclist from France and two black school teachers.
Amsterdam, Guesthouse It not a capital at all about 400 people. we stayed at a Guesthouse the owner was a real racist (We were shocked). Many blank people on the trunk of 4x4 drive cars may it was a kind of taxi. Bloodriver monument which remind to the "voortrekkers" war against the Zulu People
Natal Drakensberg Park, Cathedral Peak campsite
Mountain walks and beautiful mountain views. We bought rotten chicken at a "black" supermarket called Boxers (Ladysmith).
Royal Natal N.P. Amphitheatre campsite
Perfect hiking place, you can sleep in the highest hotel of the RSA.
Bloemfontein, Brian's Game Reserve Camp
National history Museum
Graaff-Reinet, Campsite
Hike in the Valley of desolation, Moe nie eens aan dink om steen af te gooien in die kloof nie. Internet cafe.
Jeffreys Bay, campsite
Tsisikamma N.P. stormsriver.
Knysna, Buffelsbaai Backpackers Place
Mossel Bay, Post Office Tree of dutch/portugees sailers.
Oudshoornm Schoemanshoek Campsite,
Cango Caves, Ostich Farm inclusive ostrich ride
Barrydale, Boosmanbos Wildness Area Campsite
Forest walks with redwood trees
Hermanus, Campsite
Whales watching only in September/August, we where on wrong time on the right place.
Stellenbosch, Backpackers Place
Vineyards + cellers
Cape Peninsula N.P., Camping
Cape of Good Hoop, Cape Point, Chapmans drive nice road along Atlantic coast (not possible at that time because of falling rocks)
Cape Town, Hotel
Table Mountain, Natural History Museum Cape Town, Robben Island
Wellington, Bain's Kloof Campsite
Possiblies for hikes, because of the weather we didn't do it
Wellington, Bain's Kloof Campsite
Because of the weather we toured around by car to see the West Coast N.P. and Portersville area.
Cape Town, Airport
Return flight to Amsterdam via Johannesburg and Paris
Campsites marked with + are very very basic we like them most!