Route Info Iceland Trip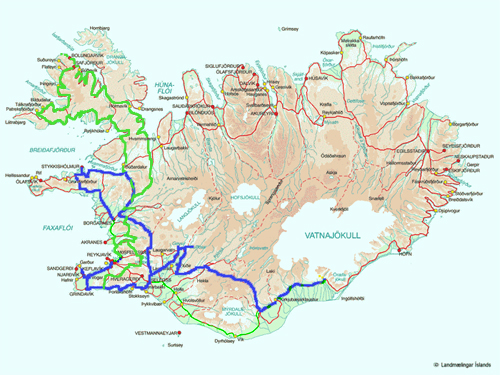 Legends: Blue = Route by bike, Green route by Nissan Micra (the "Ragbak") /Bus

STATISTICS:

Days: 21
Distance by bike: 1300 km
Distance by Nissan Micra/bus: 900 km
Average=68 Km/Day
Road conditions = Mayor part on dirt roads with forts, some parts normal roads
Skirr: never enough litre
Pasta: Overflow


Route describtion:
Targets: No planning Results: Wild camping, Lava fields, Glayciers, Fords, Puffins, Fjords, Vulcanos.....
Keflavik
Flight for Amsterdam (The Netherlands) to Keflavik. We took our bikes with us so when we arrived at keflavik the first thing we saw was a flighing bike. The personel of keflavik airport where througing the bikes on a van. This was not a really good start, but notthing was broken. So we learned never watch unloading the aircraft, take a coffee and relax.
After putting the bikes in a normal condition (pumping the tires, stere in normal possition) we started our trip. It was perfect weather (16'C with sun) the first 15 minutes, then it started to rain for a hour. During that time we went to keflavik centre for shopping. That day we stayed on the campsite in keflavik and we found out that we are not the only one on the bike.
Keflavik, Airport
Return flight to Amsterdam and than by car to our next hollyday in Luxembourg to rest a bit...
Campsites marked with + are very very basic we like them most!