Practical Info Turkey
Weather/When to go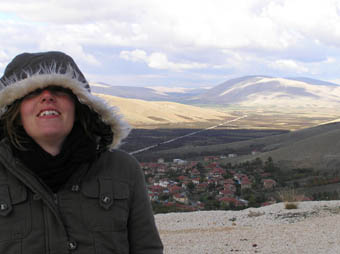 The best time to visit Turkey is april/may and september oktober. Temperatures vary between 5°C and 28°C. Expect cold weather in the mountains. Warm clotes are still recommanded, weather can always change (thermo underwear + fleece + goretex jacket). Especially in the inlands, Turkey is very mountainous. Capadocia is about 1000m above sealevel which can make it quite chilli in oktober during the night.

Turkey's diverse regions have different climates, with the weather system on the coasts contrasting with that prevailing in the interior. The Aegean and Mediterranean coasts have cool, rainy winters and hot, moderately dry summers. Annual precipitation in those areas varies from 580 to 1,300 millimeters, depending on location. Generally, rainfall is less to the east. The Black Sea coast receives the greatest amount of rainfall. The eastern part of that coast averages 1,400 millimeters annually and is the only region of Turkey that receives rainfall throughout the year. Mountains close to the coast prevent Mediterranean influences from extending inland, giving the interior of Turkey a continental climate with distinct seasons. The Anatolian Plateau is much more subject to extremes than are the coastal areas. Winters on the plateau are especially severe. Temperatures of -30°C to -40°C can occur in the mountainous areas in the east, and snow may lie on the ground 120 days of the year. In the west, winter temperatures average below 1°C. Summers are hot and dry, with temperatures above 30°C. Annual precipitation averages about 400 millimeters, with actual amounts determined by elevation. The driest regions are the Konya Plateu and the Malatya Plateu, where annual rainfall frequently is less than 300 millimeters. May is generally the wettest month and July and August the driest.

The climate of the Anti-Taurus Mountain region of eastern Turkey can be inhospitable. Summers tend to be hot and extremely dry. Winters are bitterly cold with frequent, heavy snowfall. Villages can be isolated for several days during winter storms. Spring and autumn are generally mild, but during both seasons sudden hot and cold spells frequently occur.

Because of Turkey's geographical conditions, one can not speak about a general overall climate. In Istanbul and around the sea of Marmara the climate is moderate (winter 4 deg.C and summer 27 deg.C); in winter the temperature can drop below zero. In Western Anatolia there is a mild Mediterranean climate with average temperatures of 9 deg.C in winter and 29 deg.C in summer. On the southern coast of Anatolia the same climate can be found. The climate of the Anatolian Plateau is a steppe climate (there is a great temperature difference between day and night). Rainfall is low and there is more snow. The average temperature is 23 deg.C in summer and -2 deg.C in winter. The climate in the Black Sea area is wet, warm and humid (summer 23 deg.C, winter 7 deg.C). In Eastern Anatolia and South-Eastern Anatolia there is a long hard winter, where year after year snow lies on the ground from November until the end of April (the average temperature in winter is -13 deg.C and in summer 17 deg.C).
Travel documents / Money
For Turkey a ±10 euro sticker visa is required for a 3 month stay for Dutch nationality. The sticker visa can be optained just before the border gate. For details see: Visa information -> Ministry of Foreign Affairs
Turkey is very good equiped with ATMs. Creditcard is nice as backup but cash is mainstream.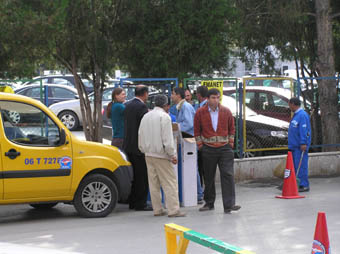 Transport
Aircraft: Amsterdam - Vienna - Ankara
Carrier: Austian
Regulations for bike: 20kg normal luggage + normally 60 euro for the bike per one way. But we did not have to pay, we don't know why.
On Esenboga Airport we couldn't buy a bicycle box. We stored the KLM boxes in at the long parking office for free. When we collected the bikes we even got a cup of thee (Cay). On the way to Ankara one peace of luggage was delayed two days.
For interconnection between cities the privat bus companies are very usefull. Busses take bikes as luggage without extra fee. The bikes don't have to be dismanteled for transport on the bus.

Wild camping in Turkey
Some tips:
Camp near vegatable fields
Camp near apple yard
Expect that people will find you and carry some postcards from home as an gift
Camp at least a few kilometer from a village if you don't want to become an tourist atraction for the local people
Be aware of the sheep dogs. Carry some stones with you for protection the dogs will understand it
Water purifier was not really needed in the inlands there are enough places to restock, but in the east it could be a different story
Pitch your tent just before sunset
Leave no garbage only foot prints (Be an example for the turkisch)
Road conditions
Turkey is a right driving country. The cars and trucks horn quite allot to warn you. Respect the horn and give away to them also when cars come from you back and want to turn right! When cars give a light signal it does not main you can go, it mains the car will come first! Usally the cars give you as a cyclist quite some room but the trucks are more notorious to come quite close. We experience that cycling from Antalya along the coast to Kemer was quite dangerous. We even decided to change the plan and went to another place to cycle (The inland). When cycling from Esenboga Airport to Ankara you can cycle nicely over the wide shoulders. When tunnels come you can ignore them and cycle the paralel road it much saver. We where supprised by the fact that Turkey has not so much secondairy road. The main road are very busy and should be avoided if possible.


Maps
Turkeys maps are very difficult to obtain in Turkey ony highway maps can be bough in a bookshop. The best maps can be bought at home. A scale of 1:750000 is not so nice but I didn't find beter maps. The GPS map was also not detail enough. Petrol stations don't sell maps.
Western Turkey by GeoCenter 1:750000 ISBN 3-829-76156-2
GPS map= garmin mapsource worldmap
Food / Supplies
Almost every village has a small shop with bread (Ekmek), water, fesh vegies and pasta
Canned vegatables are less common, you will find glas instead.
Freeze dried/dehydrated camping food is not available.