Practical Info Japan
Weather/When to go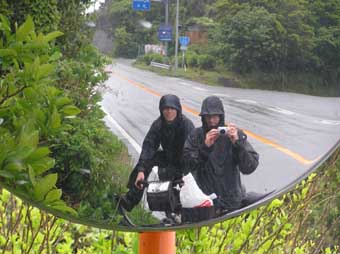 The best time to visit South Japan is april/may. Temperatures vary between 5°C and 28°C. Expect cold weather in the mountains. Warm clotes are still recommanded, weather can always change (fleece + goretex jacket).

The following table shows the average starting and ending dates of the rainy season for selected regions of Japan, according to the Japan Meteorological Agency:
| | | |
| --- | --- | --- |
| Region | Start | End |
| Okinawa | May 8 | June 23 |
| Southern Kyushu | May 29 | July 13 |
| Shikoku | June 4 | July 17 |
| Kinki (incl. Osaka, Kyoto) | June 6 | July 19 |
| Kanto (incl. Tokyo) | June 8 | July 20 |
| Northern Tohoku | June 12 | July 27 |
Travel documents / Money
For Japan no visa is required for a 90 day stay. For details see: Visa information -> Ministry of Foreign Affairs
Japan is famous for its technology, but in somethings that it is not expressed. Paying by credit card for examle is only possible with japanese issued credit cards. ATMs are every where but only the postoffice ones are capable to do international transfers.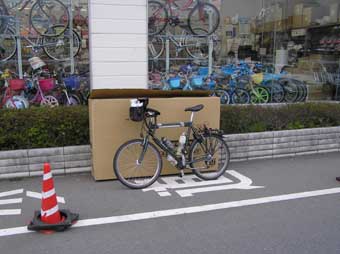 Transport
Aircraft: Amsterdam - Frankfurt - Osaka - Fukuoka
Carrier: Lufthansa
Regulations for bike: 20kg normal luggage + 60 euro for the bike per one way.
On Narita International Airport we couldn't buy a bicycle box. We got boxes in Narita City at a shop. The clark of the bicycle show was very helpfull with wrapping the box in sudge away that we could cycle with it.

Wild camping in Japan
Some tips:
Camp along old road which are replaced by new ones
Near rice fields (often you can reach them by a steep road just beside the main road)
Touristic observatory points (they have often toilet facilities), these kind of place you may expect japanese visitors who will give you cans of coffee and other gifts.
Near riviers it is often very easy to find a nice spot
In cities use parks/playgrounds/sport fields (they have often toilet facilities)
Take water purifier with you
Especially in mountains be aware for rock slide sensitive places before pitching the tent
Pitch your tent just before sunset
Road conditions
Japan is a left driving country. The cars and trucks give much space for cyclists, so this makes it very plesant to cycle in the country of the rising sun. Most of the time dangerous situations occur in or near cities. Car the leave small road from the left first drive with there car on the sidewalk then the start to look for traffic. There are often sidewalks which are also suitable for the bike. Cycling in Kyoto, Tokyo is also not a problem. Only the road we took from Tokio to Narita airport was very dangerous (narrow and bussy).

Tunnel tips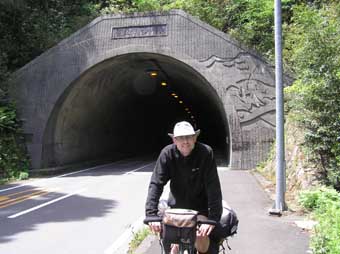 To be visible and have good visibility your self in dark tunnels, lights are essential. Most resent tunnels have plesant sidewalks but older ones sometimes don't.
When you come into the tunnel with too narrow or no pedestrian walkways for your bicycle I recommend you to go on on the center of the roadway. The most dangerous case is letting the driver pass without enough space beside you. Therefore to keep your own safety, control the drivers' behaviors yourself. Most of Japanese drivers have enough patients to wait until you go out from the tunnel After al, rise your hand up to thank the driver for waiting.



Maps
TBD
GPS map= garmin mapsource worldmap
Food / Supplies
TBD