Practical info
The costs for staying varied from 4 pound to 9 pound per night. For navigation we used maps from Ordnance Survey. They have several map with different scales, 1:125000 where most of the time good anough. But for exploring Dartmoor and Exmoor 1:25000 was more usefull. On both of these maps you can find campsite locations. When you do not know where you are or you can not find a campsite the local people are very helpfull and friendly.
There are enough places where you can buy food. But some times in small villages you have to buy a bread in a post office. In normal cities there are anough super stores like Tesco.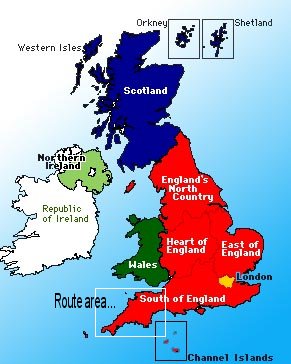 Click on the picture to go to the route info...