Sweden juli 2000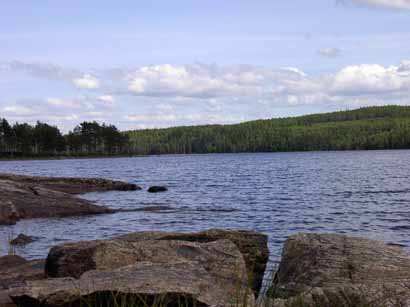 We stopped counting the lakes after 5 minutes.
Bicycle: 2400 km Cycled with: Pieltje

This holiday we were not very lucky with the weather. The first week there was rain. We said next week we will compensate that. That week it rain harder. So we tought the rest of the holiday will be sunny but it wasn't. Unless the rain we had a very nice journey and we adapted our self to the situation. Enough about rain. Sweden is perfect for cycling. It's big, clean and offers plenty of nice gravel back roads. Camping is neither a problem. Campings are scattered around on nice day distances in the south. In the north (above Mora) it is more difficult I thing, but wildcamping is allowed. In Sweden we camped the first time in wild. We choose a nice spot on the map on a dead end forest road. When we arrived there we saw a perfectly nice house for rent. But no one was around we build our tent near lake next to the landing stage (pier). It was quit exciting, every minute we heared noise, may be the sound of the land lord??? In the lake we took our "shower", it was perfect. From that moment we start loving wildcamping.
South Sweden is quite flat it only undulates a bit. The scenery is mostly trees and lakes. We cycled from Göteborg to Mora and than via the east side back to Göteborg.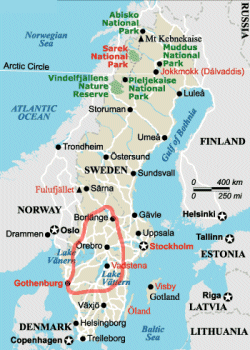 Route info:
Göteborg
Trollhättan (saab museum)
Ed
Arjang
Charlottenberg (near Norwegian border)
Torsby
Vansbro
Solleron
Mora (bear park)
Falun (old copper mine museum)
Norberg
Kungsor
Katrineholm
Navekvarn (east sea)
Ankersrum (first wild camping place 10 km south near lake)
Savsjo
Svenlunga
Asa (near Kattegat)
Göteborg

We traveled by train to Kiel (germany) and overnight ferry to Göteborg. For staying on campsited a kampingkort is needed. Link to camping.se