Practical Information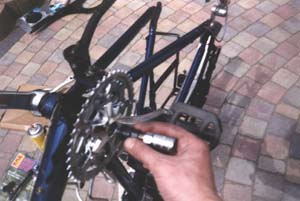 Bicycle stores
Bicycle stores are mostly to be found around Reykjavik. There one can find most spare parts, equipment and general repair service:
Falkinn, Sudurlandsbraut 8, 108 Reykjavik
Orninn, Skeifunni 11b, 108 Reykjavik.
G.A.P. Faxafen 14. 108 Reykjavik.
Markid, Armula 40, 108 Reykjavik.
Hvellur, Smidjuvegur 4c, 200 Kopavogur
And outside the Reykjavik area:
Sportver, Glerargotu 28, 600 Akureyri.
Sportvik, Skidabraut 2, 620 Dalvik.
Hjólabaer, Austurvegi 11, 800 Selfoss.
Flakkarinn, Hafnargotu 27, 230 Keflavik
One can not expect to find all spare parts or tools in the countryside, so it's advisable to buy all the necessities before leaving Reykjavik, the same applies to dried outdoors food. It is hard to find bicycle repair shops in the countryside but service stations or garages for cars are to be found in most villages where one can get help (if needed) and repairs.
So be prepaired!! And enjoy...

Maps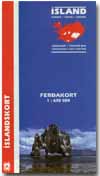 During our trip we used the following serie of maps the are very good for cycling. The map is of whole Iceland in the scale 1:600.000. A map covering all of Iceland printed in natural colours showing vegetation and highlands in relief projection. The maps provide up-to-date information on the road system, camp-sites, swimming pools, museums and other interesting sites for tourists. Pictures and colour photographs of some of the region's greatest treasures are featured on the back of the map and all texts are in Icelandic, English, French and German. There is also an extensive table of road distances. The maps come in hard-wearing plastic wallets designed to protect them from moisture and dirt. Sheet size: 110 x 80 cm Map legends are printed in English, German, French and Icelandic Map is with paper cover Published 2000 Publisher: Price 11 Euro (good availability in Iceland)
Tip: Try Skirr